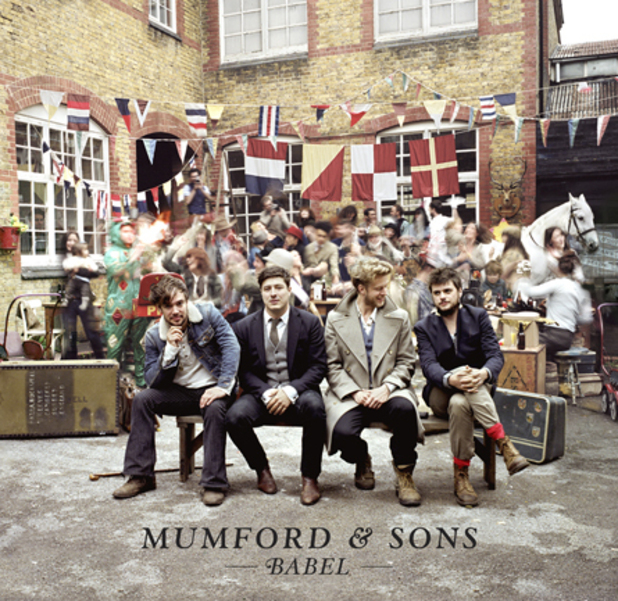 Formed in 2007, Mumford & Sons were considered to be the next big thing on the English music scene. Mixing rock, country and folk all into one genre they came with other artists such as Noah and the Whale and Laura Marling who were also creating this same sound at the time.
They became part of London's underground folk scene and with success escalating quickly were soon writing songs and performing gigs, leading to a stint at Glastonbury festival in 2008. But it wasn't until 2009 that the band signed to Island Records and under the professional eye of producer Markus Dravs (Maccabees/ The Arcade Fire) created their first full-length album Sigh No More. The single "Little Lion Man" swiftly became the song of the summer and was named Zane Lowe's Hottest Record in the World This Week on BBC Radio 1.
It was only right for the band to take some time on their second record after great success, and they are now back with Babel. They haven't lost what made them so exceptional in the first place, front man Marcus Mumford still holds his rasping vocals to the melodic songs. Ben Lovett, Winston Marshall and Ted Dwane accompany his enrapturing voice with the accordion, banjo and dobro, not your average accompanying instruments.
Babel provides fan with a progression, it's taken three years but with good reason, the lyrics are meaningful and not at all rushed, Mumford have thought about every chord in every song.  The first single from the album, "I will Wait" was jokingly described as the "worst track on the record" by keyboard player Ben Lovett. Far from it, the romantic sentiment is there, the strong banjo is evident from the start and the strong climatic chorus makes for a beautiful Mumford track.
One of the longest and perhaps the statement track from the album "Hopeless Wanderer" opens with the piano and understated lyrics from Marcus, "You heard my voice/ I came out of the woods by choice/ I will remember the words that you said." Typical from the band, the ability to sing such emotive lyrics and still include a powerful, loud, hand clapping, foot stomping beat. It almost confuses the listener's emotions, sad lyrics with such an up-tempo tune, a signature Mumford song.
This emphatic album ends (unless you splurge on the deluxe edition) with "Not With Haste," the track seals the deal that Mumford are being exactly who they want to be. It silences the 'haters' and embraces the people, their fans, who love the band for who they are and what they're bringing to English music. "We'll be who we are/ they'll heal our scars/ sadness will be far away/ I am what I am" are simple lyrics that provide an upbeat ending to yet another great album from this unique band.
Babel is out 28th September in the UK