Ahh, that classic rumour that The Smiths will be reforming. Holy Moly decided to report on October 1st that a number of credible sources reckon The Smiths are reforming for four shows including the holy grail; Glastonbury festival. Johnny Marr's manager has since claimed that the rumours are all a pile of bull but it begs the question, do we really want to see it happen?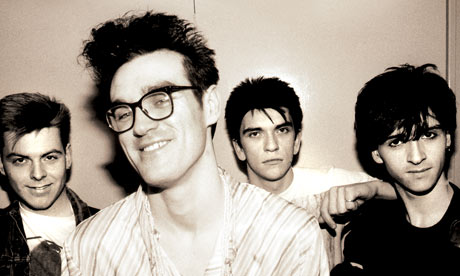 Rumours were only 50% of The Charming Men would be returning, Morrissey and Marr, so would it really be the beloved group still? When does a band become a tribute act? Peter Hook of Joy Division/New Order fame is about to embark on his Peter Hook and the Light tour where they perform hits from both bands back catalogues. It's kind of like a tribute band with a cherry on the top.
The Smiths haven't performed together since 1987 so understandably there's a large supply of people clamoring to see them back, but wouldn't it be better to just imagine how they would have been in their heyday?
Over the last couple of years comebacks have been happening almost every hour. The Stone Roses were adored this year but it could have easily backfired. Pulp in 2011 took people back to the Disco 2000. The Libertines reforming for two shows in 2010  risked their reputation going up the bracket. Numerous comeback artists are even afraid to televise their performances in case the crowd doesn't sway the way they used to.
Concern now turns to that other popular Glastonbury rumour, The Rolling Stones. One name always thrown into the Glasto mixing bowl but discounted as they wanted mullah which the Eavis family cannot afford could actually become true this year. If The Stones decide to take a discounted fee following the 50th anniversary of their first ever show, Michaels dream act could appear at the top of the bill but how would they shape up now? Most members are into their 70s now so how will they shape up if it happens?
If you had the choice, who would you want to see back on stage again? No dead please, holograms don't count.